Product Spotlight

Lifeline Emergency Cart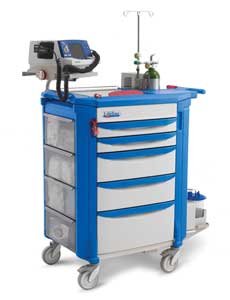 Designed for a code. Not adapted for one.
Lifeline's redesigned, integrated features are specifically designed for Code Response.
Maneuverable - An ergonomic handle and a propriety 5th wheel steering assist system assures maximum control in transit and maneuverability during a code.
Accessible - Storage areas for first line medications, airway and other critical supplies and equipment are designed to be accessed by multiple members of the code response team.
Secure - Tamper evident seals secure the top compartment, drawers and side bins and can be sealed in segments or one seal can secure the entire cart.
Organized - Full extension, self-closing drawers, drawer divider systems, exchange trays and drawer labels are available to allow for easy access and identification of drawer contents.
Plus the clean, contemporary design looks great in any hospital and is easily identified as the Code Response Cart.