Product Spotlight
Prime Pacific Health Innovations Aquanet EC-2000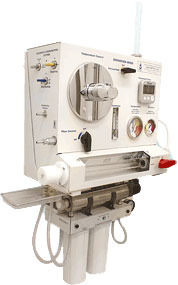 The Aquanet EC-2000™, an advanced Closed System Colon Hydrotherapy Instrument was developed by a team of innovative engineers at Prime Pacific Health Innovations Corporation (PPHIC). The Aquanet EC-2000™ is designed for use in professional clinics, hospitals and medical resorts.
Pro-Fit™ disposable speculum kits are designed with the needs of the patient in mind and come in a variety of styles to meet individual needs.
Features
The Aquanet EC-2000™ is the only professional colon hydrotherapy instrument available that is capable of performing pressure and gravity treatments during the same treatment using the same unit.
The Aquanet EC-2000™ is designed to provide the best possible treatment for patients and ease of operation for therapists. Only the highest quality materials and components are used in the manufacturing process and meet strict international standards. Leading health professionals around the world have chosen the Aquanet EC-2000™ for their practice, and here's why:
Dual Operation Mode: Gravity and pressure treatments in one unit
Can be switched at any time during treatment to accommodate client's level of tolerance and sensitivity.
Uses Applied Pressure Sensing Technology (APST™)
APST™ is a newly invented treatment system for Colon hydrotherapy. It senses the applied pressure as it builds in the colon and automatically reduces the flow of water as pressure in the colon increases. This provides for gentler and longer colon fill cycles. With the use of APST™ the most comfortable, safe and effective treatments are now possible. The Aquanet EC-2000™ colon hydrotherapy automatically delivers safe water pressure to the colon all of the time.
Fully Integrated Disinfecting System
Allows the operator to disinfect the complete unit. Features the most advanced double safety components of any colon hydrotherapy machine on the market, putting the operator and patient at ease.
Automatic Temperature Control
Thermostatic precision valve lets you set desired temperature.
Precision Flow-Control with Flow-Meter
Increased Therapist control.
3 Stage Treatment-Water Purification System
Double Filtration (Sediment & Carbon) plus Ultraviolet Sterilization. Filter change indicator included. Built-in UV operating monitor.
View Tube Lighting
Provides high penetration viewing and long bulb life.
Wide Angle Viewing of Waste-Pathway
Allows easy viewing of expelled material.
Hinged Frame
Allows the device to be opened cabinet style without disconnecting from plumbing. This makes it very simple to access the device for regular maintenance work.
At Prime Pacific Health Innovations Corporation we take pride in being your leader in Colon Hydrotherapy